11 décembre 2012
carte anniversaire - Dt Magnolia
Bonsoir,
Aujourd'hui je vous montre une carte réalisée pour l'anniversaire de mon neveu avec des produits Magnolia!
Hello,
Today i am showing you a card i made with little Edwin for my nephew's birthday with Magnolia goodies!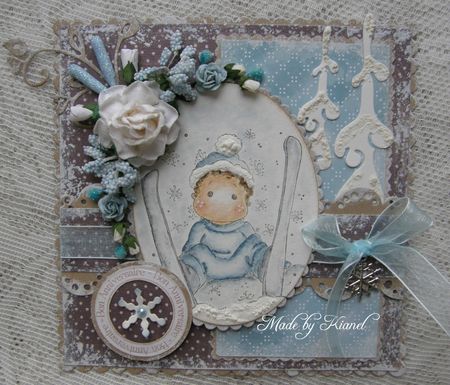 Cet adorable tampon s'appelle "ski Edwin with snowflakes" de la collection Christmas story 2012. La colorisation est faite aux recharges distress et peintures irisées Creative inspirations.
This little cutie is called "ski Edwin with snowflakes" from the Christmas story collection 2012. Colouring is made with Distress refills and Creative Inspirations shimmer paints.


Papier MME et le papier bleu provient d'un emballage de tampon Mini world Magnolia. Découpes sapins Magnolia DooHickeys + crayon flockage blanc.
Paper is MME and the blue one is the paper that is inside the mini world stamps package, cute isn't it?
The trees are a Magnolia Doohickey covered with puffy pen.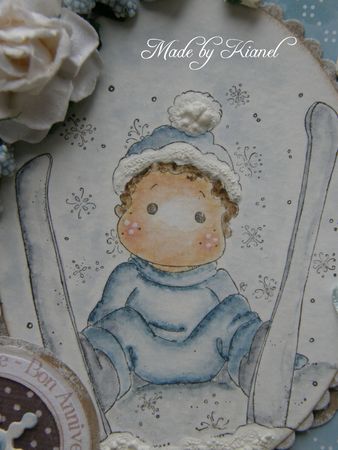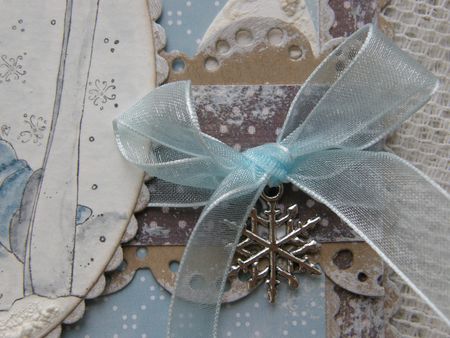 La matrice bordure est une DooHickey Magnolia, la breloque flocon vient de la boutique LE SCRAP DES LUTINS.
Border die is from Magnolia DooHickey, charm from LE SCRAP DES LUTINS.
Découpe feuillage Magnolia DooHickey. Rose blanche, boutons de rose blancs, petites roses bleues, bouquets grappes bleu clair, tiges gouttes paillettées bleues, pistils givrés turquoise LE SCRAP DES LUTINS.
Foliage die is Magnolia DooHickey. All other embellies are coming from LE SCRAP DES LUTINS.
Merci de vos chaleureux commentaires et bienvenues aux nouvelles abonnées. Je vous rappelle aussi que vous pouvez gagner des lots chaque jour sur le blog Magnolia en découvrant les réas des membres de la DT. Bizz et à bientôt, Kianel.
Commentaires
Poster un commentaire