29 décembre 2011
DT MAGNOLIA - BLOG HOP
Bonjour!
Je vous souhaite la bienvenue sur mon blog car aujourd'hui c'est à mon tour d'ouvrir la fenêtre du calendrier de Noël Magnolia. Et pour l'occasion, j'ai réalisé un sac papier avec beaucoup de produits Magnolia!
Hello dear readers!
I would like to give you a warm welcome to my blog as today it is my turn to open the Magnolia Blog Hop calendar window.
And here is what i made for the occasion: a paper bag with many Magnolia products on it!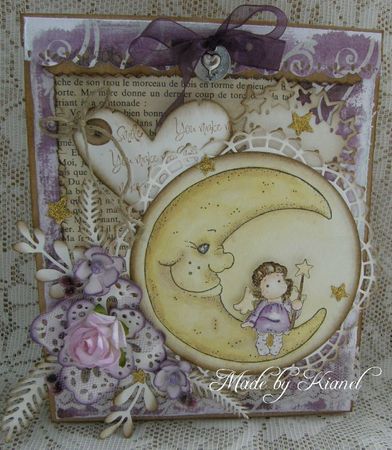 Tout ce que vous avez à faire pour tenter de gagner un superbe prix secret offert par MAGNOLIA, est de laisser un commentaire sur ce message. Le gagnant sera tiré au sort demain alors soyez sûr de revenir ici pour vois si vous avez gagné!
All you have to do now to get the opportunity to win a magnificent secret prize from the one and only MAGNOLIA, is to write a comment for this post. The winner will be randomly chosen tomorrow so be sure to come back to check if you are the lucky one!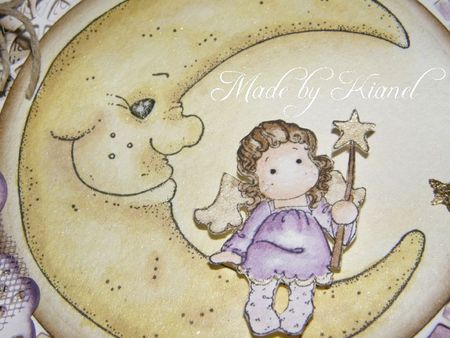 Cette lune n'est-elle pas des plus mignonnes???Siiiiiii, et il provient de la toute nouvelle collection de tampons Magnolia "sweet crazy love 2011". Le tampon s'appelle "sweet moon" et la petite fée qui est assise dessus est un tampon du Magnolia Mini World "starlight Tilda" (Merry Christmas 2011). Le côté brillant est donné par les peintures Creative Inspirations.
Isn't that moon the cutest ever???? Yesss, and it is coming directly from the brand new Magnolia collection called "Sweet crazy love 2011". The stamp is the so well named "sweet moon" and the little fairy sitting on it is a stamp from Magnolia mini world called "starlight Tilda" (Merry christmas 2010). The shimmery look is added with Creative Inspirations paints.
Ces magnifiques découpes Magnnolia sont appellées "doily flowers" et celle que j'ai utilisée avec la tulle c'est "peony petals". Il y aussi les découpes Magnolia "vintage flowers and leaves" (pour les petites fleurs et feuilles) et "spruce twigs" (les fougères).
Those gorgeous Magnolia dies are called " doily flowers" and the one i used with tulle is "peony petals". Magnolia dies here are "vintage flowers and leaf" and the "spruce twigs".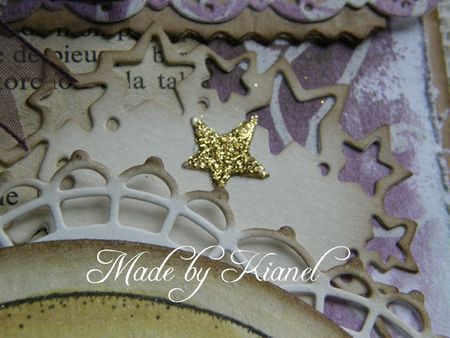 Ici, vous pouvez voir la découpe "so wrapped starlight" issu de la toute dernière collection Magnolia. J'ai utilisé les petites étoiles qu'il restait et les recouvertes des toutes nouvelles poudres à embosser de Creative Inspirations. La découpe ronde en dessous du tampon est une Cheery Lynn Designs.
Here you can see the "so wrapped starlight" label die issued from the brand new Magnolia collection. The stars are leftovers from the die and are covered with brand new embossing powder from Creative Inspirations. The round die under the stamped image is coming from Cheery Lynn Designs.
Le papier est un Magnolia et s'appelle "vintage swirl". La découpe "heart tag" vient de la collection Sweet Christmas 2011.
La dentelle, les pistils givrés, la rose viennent de la boutique LE SCRAP DES LUTINS.
The paper is also from Magnolia and is called "vintage swirl". The "heart tag" die is from the sweet christmas collection 2011.
Alors, vous avez juste à laisser un commentaire pour participer et demain vous retrouverez un autre magnifique cadeau à gagner sur l'un des autres blogs de la DT. Bizz, Kianel.
Well, just leave a comment here for a chance to win and tomorrow you will find another prize to win on one of the DT members' blog. Take care, love from France, Kianel.
Commentaires
Poster un commentaire